Share feedback
Thanks for sharing your feedback!
To learn about using one of Kernel's provided tasks, see Kernel Tasks.
While recording is ongoing, a green recording status indicator is displayed at the bottom of the Data Acquisition controls.

During the recording of a Kernel Flow session, it may be helpful to monitor the headset's signal quality. The Kernel Flow Desktop Application displays a live view of activity. The quality of the connection for each detector (and in aggregate for each module) is represented by the module color. Darker green indicates a better connection.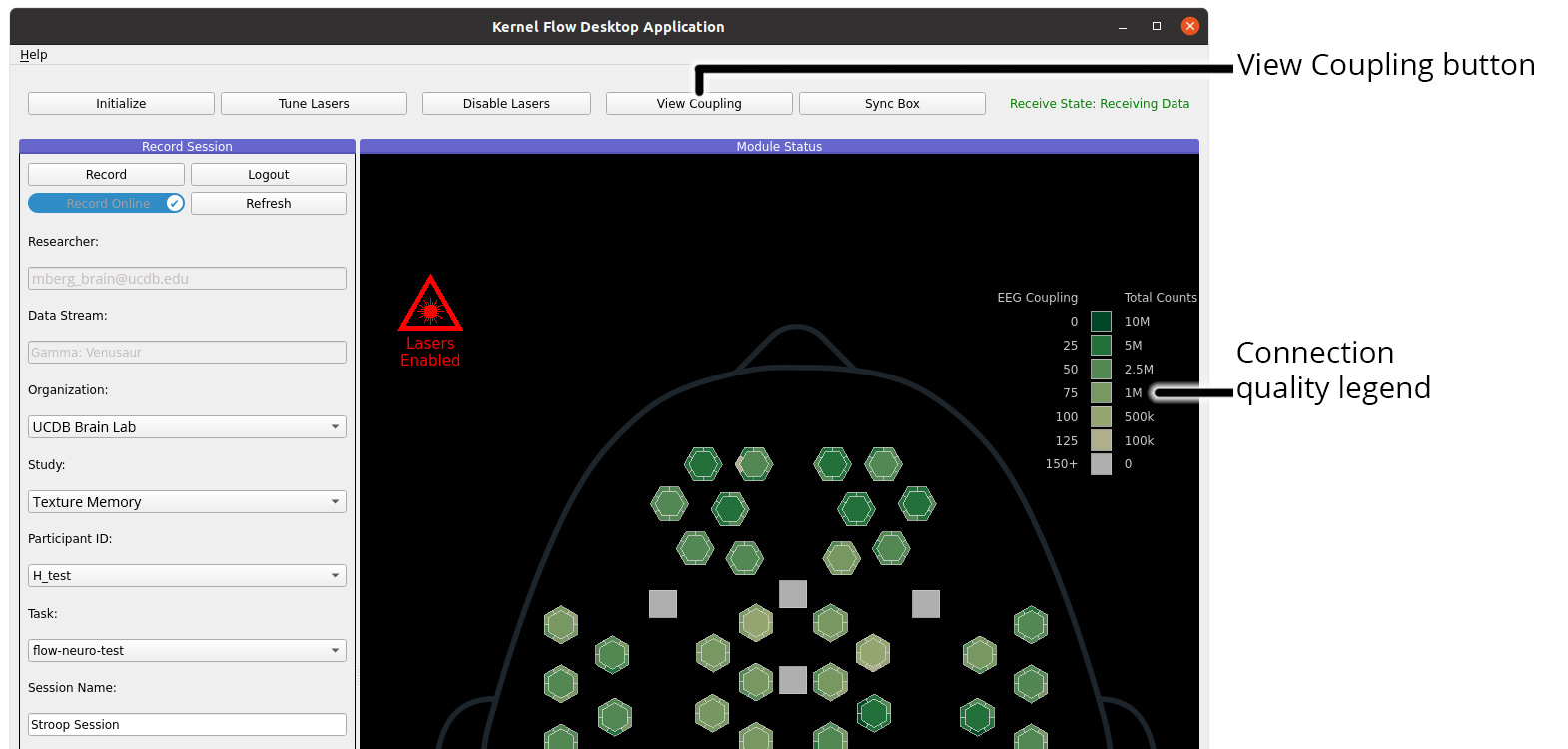 You can choose to view the module status based on Total Counts or a calculated scalp coupling index (SCI). You can also view a running graph of data for each module, and also for each individual detector.
---
To switch the measurement to SCI:
Click View Coupling.
A progress bar appears while an initial SCI is calculated.
To switch to Total Counts:
---
To view a live data graph for an individual module or detector:
Double-click any module to open a Module Detail window.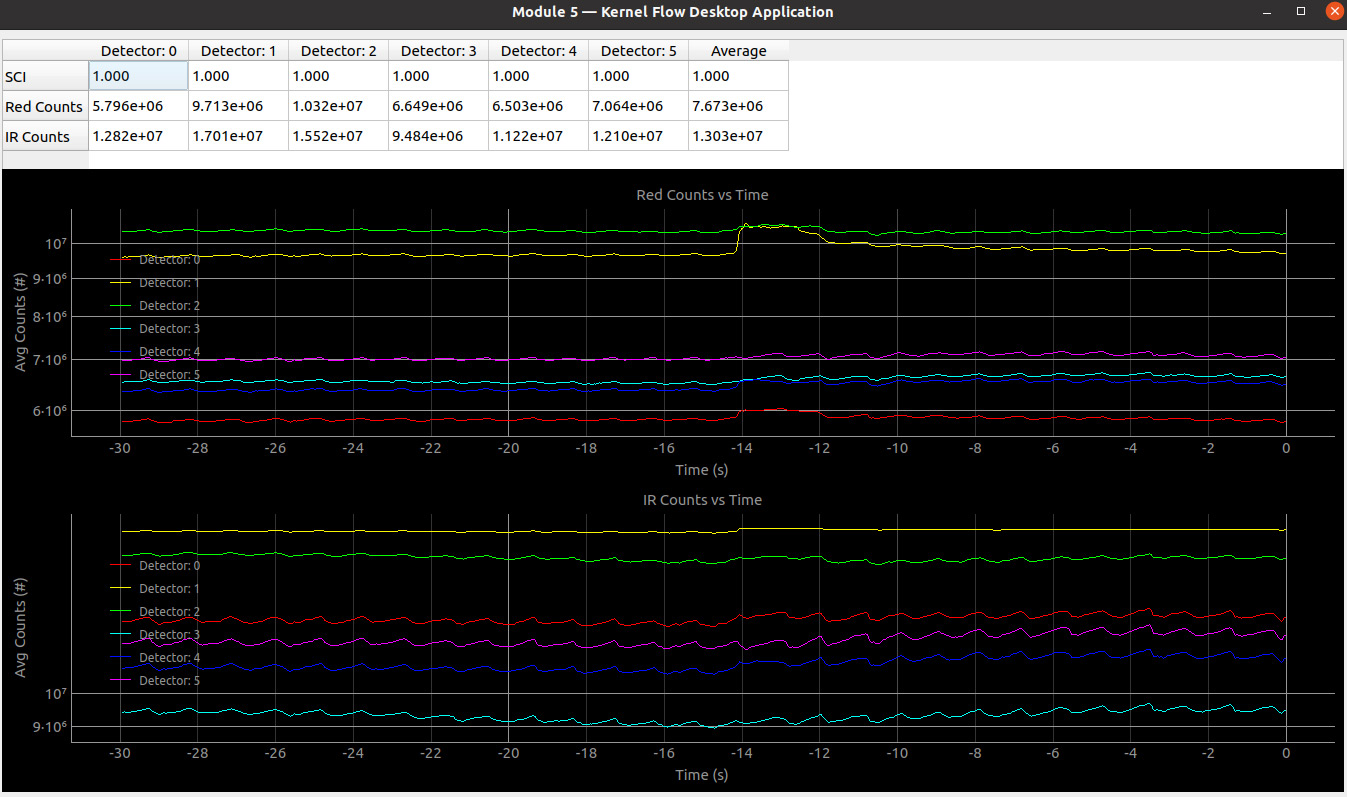 This window displays six datastreams superimposed on a single graph.
Double-click an individual detector to open a Detector Detail window.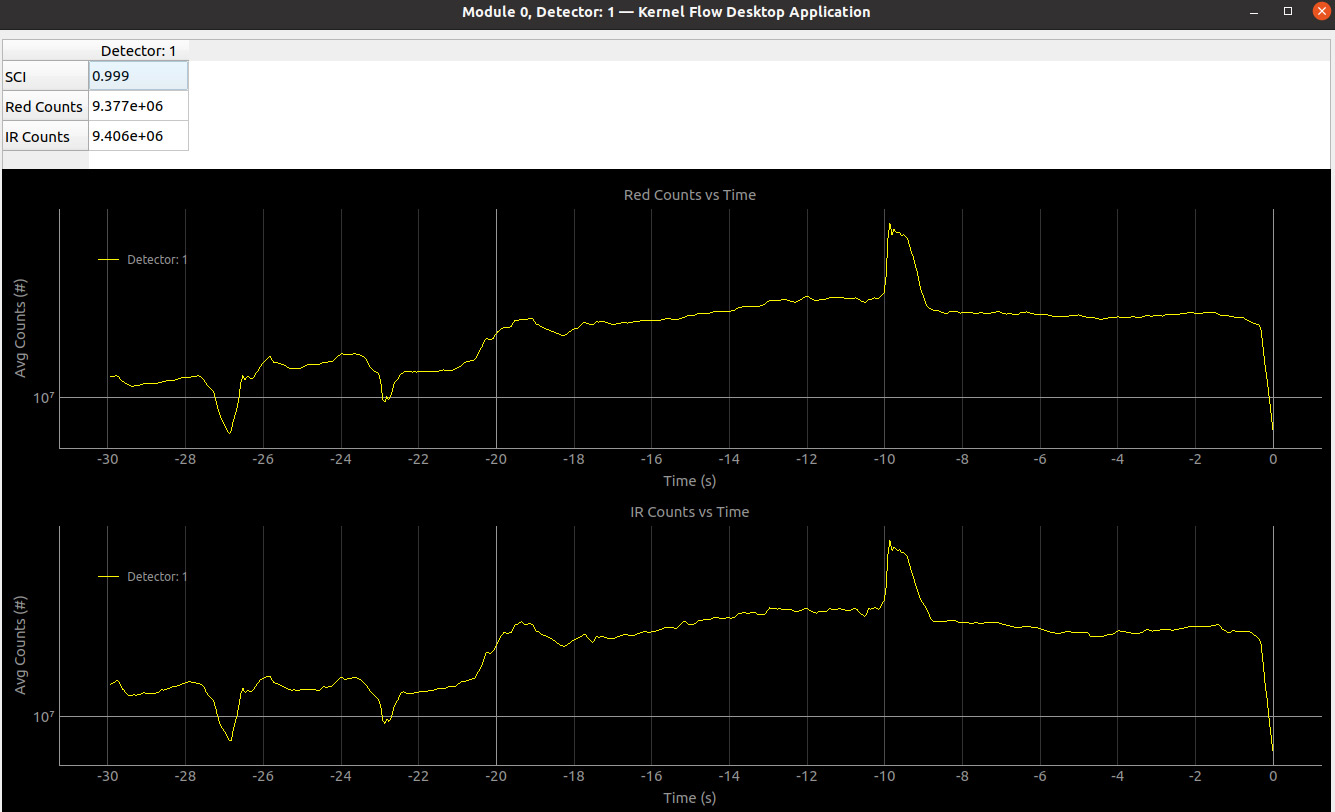 You can open multiple Module Detail and Detector Detail windows simultaneously.
---
Data storage during recording
During recording, data from your session are temporarily stored locally on the Kernel Flow PC, and then automatically uploaded to Kernel Cloud as quickly as possible.
The status bar at the bottom of the window displays how much recording time is left based on available disk space. As data are uploaded to the cloud, the amount of space available increases to account for the freed-up space.

If recording "offline" (without an Internet connection), you may need to connect to the Internet to allow any recorded data to be uploaded in order to free up space for additional recordings.
Uploading may take longer than the duration of the session itself based on the overall quantity of data and your network speed. In the event the Kernel Flow PC is shut down or disconnected from the network before an upload is completed, the upload will automatically continue once the PC is restarted and/or reconnected to the network.
A partially uploaded session is indicated in the Kernel Cloud portal in the Timeline pane of the Dataset's Detail page. To learn more, see Viewing datasets.
---
What's Next